Posted on: 8 September, 2020 - 11:19
You will not be able to shut down the lab computer to end your session. However, you can log off or disconnect from the machine as the steps show below: 
 
Part I: Using Log Off option on the Desktop.
 
Step 1: Simply click on the Log Off icon on the desktop, as show below.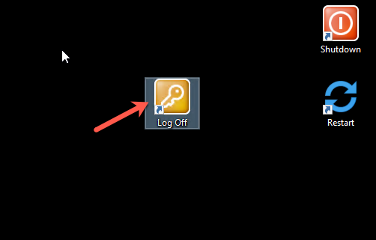 If the Log Off option is not available follow Part II below. 
Part II: Using Disconnect option from the Start menu.
 
Step 1: Click on the Start menu.
 
Step 2: Click on the Power option menu.
Step 3: Select the 'Disconnect' option.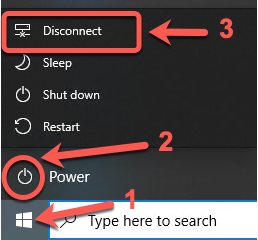 NOTE: 
Once logged off or disconnected you will not necessarily get access to the same computer again. 
The desktop will automatically disconnect you after 15 minutes of no activity. 
Clicking on X (to close) icon does not mean you are disconnected. The session will remain active.